It is an enjoyable time surfing around my favorite blogs. And I saw this 11 things series in
thepapermama
. I am so in love with this blog and this series as well.
I sometime recognize I forgot a lot of things in my life or just I haven't thought about that for a long time. Thanks Chelsey for this series again.
If you feel interested in this series, you may want to answers those questions or another set of 11 questions at the end of this post. Don't forget to leave your blog post in the comment area below.

Here is my 11 things
1. What's your favorite show on TV right now?
Since I had the baby, we didn't watch TV much (we were too busy playing with each others). So, there is no answer for this question.
2. Could you ever be a contestant on the reality show: Naked and Afraid?
Wow..... the answer is NO. When I watched this show, I could see how close the human can get to the mother nature. Yet, naked in front of strangers in a TV show? Absolutely NO.
3. If you could only eat one thing for the rest of your life, what would it be?
Rice. I guess because we eat rice everyday since we were born, rice sticks to our mind as a basic food that we can't live without.
4. What's your first thought when you wake up in the morning?
"What time is it?" My baby just seems to wake up a bit earlier on those days. That makes me keep staring at the clock every time I wake up.
5. Breakfast, lunch, or dinner?
Dinner. Breakfast was fast and hurry. My baby gets too hungry after a long night. Lunch is kind of late. Dinner is the family time that we eat together and talk about what happened in the days.
6. What was the best trip you've ever taken?
The road trip from Houston to California with my hubby. We had best time enjoying sightseeing along the road.
7. Share your favorite meme of gif.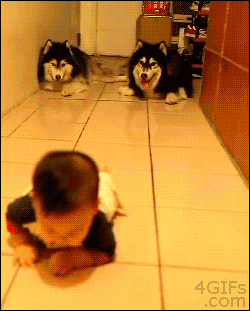 8. Your current favorite book and/or movie?


This book is written in Vietnamese by Kam Nhung. This book is a collection of experience on how American parents grow their baby. I just started to read it yesterday, but I get very excited to read more and know more about it.

9. The most random fact about you....
Love to bake but not a sweet tooth person (either my hubby). I keep finding someone who loves to eat sweet, so they can enjoy my food and I have chance to practice more about baking.
10. What do you miss about childhood.
Live without worry. Until now, sometimes I feel like I am still a kid when my parents care too much about me. Back then, I didn't have to worry about money and life. I just needed to study and enjoy the life. Thanks my parents for giving me life and giving me a chance to be a happy kid.
11. Share your favorite cell phone images you've taken in the last 12 months?
You can see all of those photos are about my family, my happiness, simple and lovely!
And here is another 11 questions (I get it from Chelsey's blog):
1. If you HAD to change your name, what would you change it to?
2. Are you a collector of anything?
3. Do you prefer sweet or salty foods?
4. Are you morning or night person?
5. Share one thing that people may not know about you.
6. Do you have any hidden talents?
7. What is your favorite hobby?
8. What make you happy?
9. What would your dream profession be?
10. Share 3 blogs/websites you enjoy visiting.
11. Why did you start blogging? And/or, why do you continue to blog?
Thank you for reading it!
Happy blogging, friends.
Huong Tran